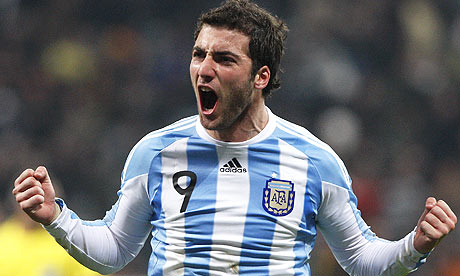 Diego Maradona gave a strong indication of the likely alignment of the team that will debut at the World Cup against Nigeria on the 12th in a practice match in which Gonzalo Higuain scored three goals and Lionel Messi one.
Sergio Romero, Martin Demichelis, Walter Samuel, Gabriel Heinze, Jonas Gutierrez, Javier Mascherano, Juan Sebastian Veron, Angel di Maria, Lionel Messi, Gonzalo Higuain and Carlos Tevez 4-0 defeat to a formation of 'alternates' that Maradona completed two youth players.
The performance of Higuain, Real Madrid striker was superlative, close to the combined albiceleste commented. The meeting was held behind closed doors in a field of High Performance Sports Center at the University of Pretoria and was first met formally made seven days of the arrival of the template albiceleste to South Africa.
Maradona had said last month that the defense system more convinced him to start the World Cup was the four central defenders, but in this study the team played with three and the support of Jonas Gutierrez, for moments like the right side and once recovered the ball, as a midfielder.
Contributors to the delegation of Argentina commented "the wisdom" of Maradona in deciding that the team does not play friendly matches with other teams in the days before the World Cup after they met in Pretoria the number of major players that are lost or injured could miss the tournament begin next Friday.
Before training evening Maradona was informed that the Nigerian midfielder John Obi Mikel has caused decline in the national team because of a knee injury.