The Spanish side have upset many to reach the last eight, but their flouting of the rules have rightly led to them being banned from next season's competition
COMMENT
By Kris Voakes | International Football Correspondent
Football's push to ensure its clubs run within a more sustainable business model saw its first ever penalties in September 2012. Three years after the initial agreement regarding Financial Fair Play (FFP), Uefa withheld prize money from 23 clubs who had failed to comply with the strict framework set out for the season 2011-12. But since then, the new regulations have claimed their most high-profile victim.
When Sheikh Abdullah bin Nasser Al-Thani bought Malaga and invested millions upon millions of Euros on transfers and wages, it appeared Los Boquerones were on their way to becoming the first club in almost a decade to seriously challenge Real Madrid and Barcelona at the top end of La Liga.
'COME ON UEFA, HAVE A HEART'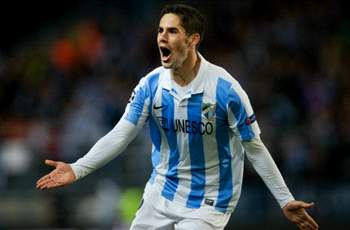 WHY MALAGA SHOULD BE ALLOWED BACK IN

"Malaga still have a fight on their hands to finish fourth, especially after Saturday's 4-2 defeat at rivals Real Sociedad. But if the Andalusians do manage to claim Spain's last Champions League berth, it would be a real shame if they are not allowed to return to Europe's premier club competition next season.
Should the European ban be ratified, Manuel Pellegrini's brilliant side is likely to be broken up and, while it is unfair if the club have broken the rules (which it seems they have), Uefa would likely turn a blind eye if it were Real Madrid or Barcelona.
Malaga have been a credit to this competition, a breath of fresh air among Europe's elite; their games have been played amid an extraordinary atmosphere at La Rosaleda and they have stood toe to toe with some of the best teams on the continent, playing some fantastic football. So for everything they have given the competition this season, Malaga deserve another crack next year.
Come on Uefa, have a heart!"
Ben Hayward, Spanish Football Writer.

However, his subsequent announcement that he was sick of the way Spanish football is structured in favour of the traditional giants to the detriment of aspirational owners such as himself led to widespread concern. Al-Thani's decision not to keep pumping money in meant that Malaga could become the first major club to fall foul of Uefa's new laws.
And so it has proved. The European governing body announced earlier this season that Manuel Pellegrini's side will face a one-season ban from its competitions over the next four years, leaving one of this term's revelations to contemplate this being their one and only campaign in the Champions League before being left to scramble for a way to pay their overheads without the bonus that continental football at the top table brings.
But it is right that that be the case, no matter how successful, how refreshing and how magnificent their run to the last eight has been this season. Pellegrini and his troops have benefited from the fruits handed to them by Al-Thani and now must live with the consequences of what that has brought.
While Uefa's intentions may be questioned in other regards, the FFP laws are one of the better additions to football in recent years in light of overspending by minnows and giants alike. Clubs such as AC Milan and Inter have had to curb their ambitions for European glory due to the relative lack of revenue. Multi-millionaire owners they may well have, but the clubs have both had to tighten their belts since their business models do not cater for the mega-money payouts of years gone by. Players including Thiago Silva, Zlatan Ibrahimovic, Wesley Sneijder and Samuel Eto'o have all had to be sold by the cousins in recent years in order to come to terms with FFP.
Meanwhile, at the other end of the scale, Portsmouth reached the Uefa Cup in 2008-09 after winning the previous season's FA Cup but now find themselves on the verge of the fourth tier of English football as a result of an incredibly irresponsible approach to the club's finances.
Uefa do not want any more Portsmouths, whereby a club has temporary success but severely pays for it in years to come. And at the same time, clubs like Milan and Inter have fallen within the framework set out to the detriment of their standing within the European game. So why should Malaga be allowed to flout the rules only to be allowed back in?
Football will eventually become a better place for the FFP system, and clubs will just have to like it or lump it. The Manchester Citys, Paris Saint-Germains and Chelseas of the world may have been the target when Uefa first came up with the structure, but they have fallen in line for now. Malaga have not, and no amount of wonderful football and continued good results on the field can make up for their inability to meet targets off it.
Follow Kris Voakes on