Lionel Messi led Argentina to a stunning World Cup victory, beating defending champions France 4-2 on penalties after an enthralling 3-3 draw over 120 minutes.
In a game that will go down in history as one of the greats, France twice came from behind to send the game to penalties. Although Messi will take the headlines, Kylian Mbappe was the first player to score a hat-trick in a World Cup final since Sir Geoff Hurst for England in 1966.
Argentina dominated for the opening 80 minutes and looked to be cruising to their first World Cup title since 1986. Messi fired his side ahead from the penalty spot in the 23rd minute after Ousmane Dembele was judged to have tripped Angel Di Maria – although it looked to be a soft decision.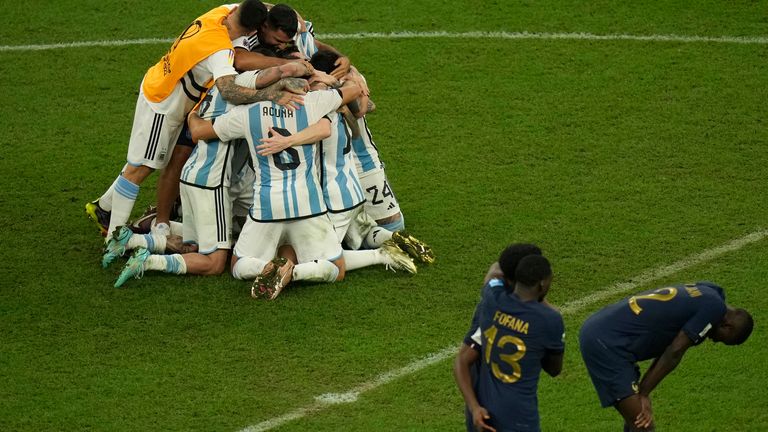 Juventus winger Di Maria added Argentina's second after a fine sweeping move – spearheaded by Brighton's Alexis Mac Allister – as France looked to be suffering from the effects of illness in camp during the week.
But Les Bleus came roaring back into the tie when they were handed a lifeline in the 79th minute as the impressive substitute Randal Kolo Muani was tripped by Nicolas Otamendi. Mbappe scored from the spot for his first of the evening, before adding a stunning second just 90 seconds later to take the game to extra-time.
Messi thought he had won it for his side as his rebounded strike was given by goal-line technology in the 108th minute. But, with mere minutes to play, France were awarded another penalty after Gonzalo Montiel was penalised for handball.
Mbappe stepped up for a second time and once again beat Emiliano Martinez, hauling France back into the tie for a second time and sending the game to penalties. The 23-year-old took the first kick of the shootout – netting his third of the evening – before Messi replied.
But Kinsgley Coman and Aurelien Tchouameni both missed their spot kicks for France as Argentina scored each of their remaining three, with Montiel firing home the winning penalty to win the 2022 World Cup.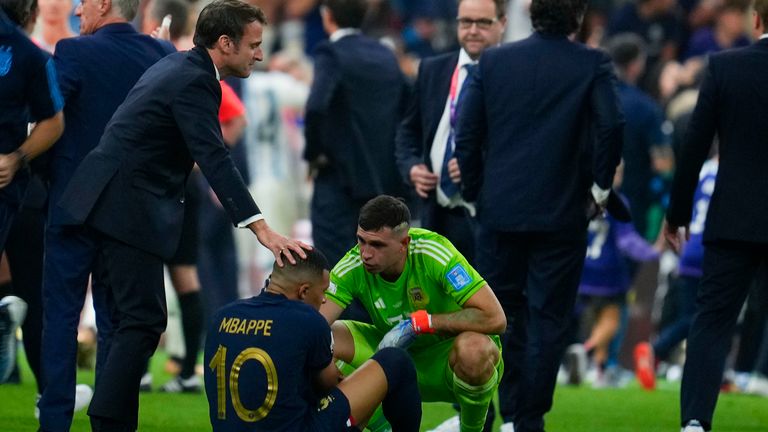 "This squad, these players, play for their people. They play for the Argentina fans," said an emotional Lionel Scaloni after the game. "That's what I have always seen. There are no rivalries, everyone pulls in the same direction.
"It is the greatest pride to play for your own country. The players broke their backs, have achieved this title because they understood what they had to do on the pitch. We are very very happy and proud.
"Today we are World Cup champions. Although we went to a penalty shoot-out, we deserved the win because of our great performance. Only some moments they made trouble for us."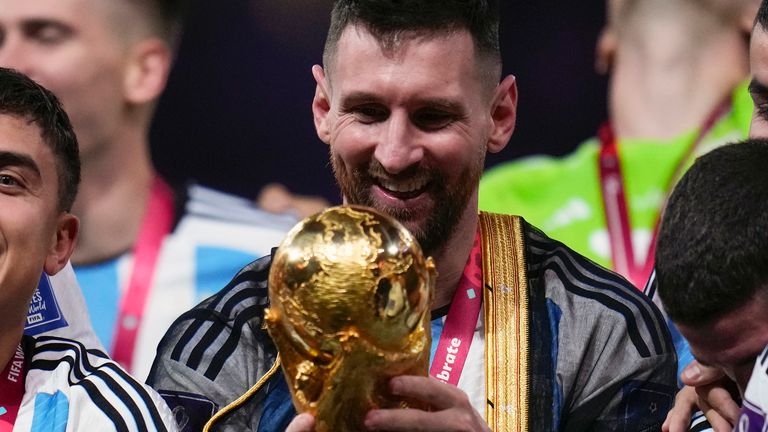 When asked about Messi, Scaloni added: "First of all, we need to save him a spot for the next World Cup in 2026 if he wants to keep playing. If he wants to keep playing, he'll be with us.
"He's more than entitled to decide if he wants to keep playing for Argentina or not, and what he wants to do with his career.
"It's such a huge pleasure for us to coach him and his team-mates. Everything that he transmits to his team-mates is something unparallel, that I've never seen before. A player, a person who gives so much to his team-mates."
How Argentina came out on top in an all-time great
France were second best for almost 80 minutes of the game, but will have questioned the awarding of Argentina's penalty in the 21st minute. Di Maria dinked easily past Dembele and into the area, with the Frenchman barely grazing his foot before the Juventus winger went tumbling to ground. There was no VAR review of the referee's decision to award the penalty.
Gonzalo Montiel's decisive penalty in the shootout gives Argentina World Cup final victory against France

There was little doubt who would take the spot kick. It was lined up and expertly dispatched by Messi – rifling the ball past Hugo Lloris – as the blue and white shirts dominating the stands were sent into raptures.
Argentina continued to dominate against a sluggish France, and it was a special goal to make it 2-0. Messi started the move, flicking the ball to Julian Alvarez on the halfway line. He then spotted the run of Brighton's Mac Allister, who drove forward with plenty of space, before squaring to Di Maria on his left. The winger then made no mistake in slotting home.
Big moments of the game…
23 mins: Messi opens with the first penalty of the game after Dembele foul on Di Maria.
36 mins: Di Maria adds second Argentina goal on the counter-attack after superb Mac Allister pas.
41 mins: Giroud and Dembele taken off, replaced by Thuram and Kolo Muani.
80 mins: Mbappe scores first France goal from the penalty spot after Otamendi foul on Kolo Muani.
82 mins: Mbappe scores his second goal to level for France with a stunning strike.
90+7 mins: Lloris tips Messi's shot from range over the bar.
105+1 mins: Two Martinez chances blocked by Upamecano.
108 mins: Messi sees Argentina back ahead after scoring from Martinez's rebound.
117 min: Mbappe sees France level again after Montiel handball.
Penalties: Montiel scores winning penalty in the shootout to win the game for Argentina.
That was all Didier Deschamps needed to see from his side. Olivier Giroud and Dembele were both hooked in the 41st minute, replaced by Marcus Thuram and Kolo Muani, and were out far earlier than Argentina for the second half.
Argentina continued to see the better of the chances after the break, with Alvarez and Mac Allister linking up nicely going forward. France finally registered their first effort on goal in the 67th minute with Kolo Muani nodding a corner wide.
But the drama was yet to really get started as France were handed a lifeline with a penalty in the 79th minute. Kolo Munai was fouled by Otamendi, who was the wrong side of his man and brought him down.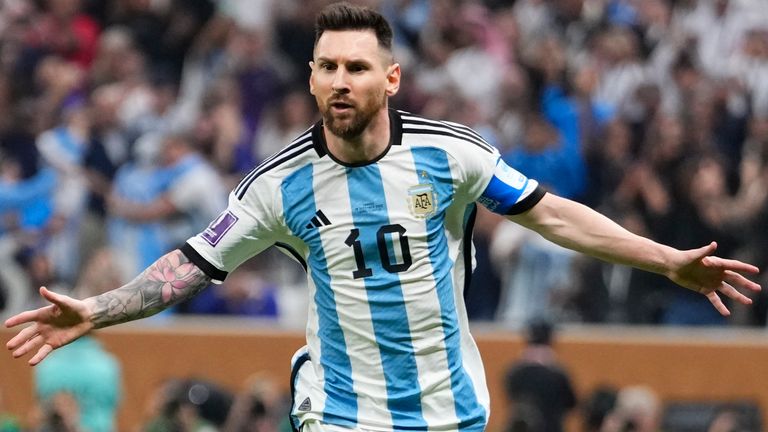 As with Argentina's penalty, there was only one man for the job as Mbappe stepped up. Emiliano Martinez – who had not needed to make a save in the game until that point – did get a hand to it, but the penalty had too much power.
In echoes of the quarter-final against the Netherlands, Argentina were pegged back to 2-2 mere seconds later. It was a stunning finish from Mbappe, playing a quick one-two with Kolo Muani before sending a stunning volley home to complete France's turnaround.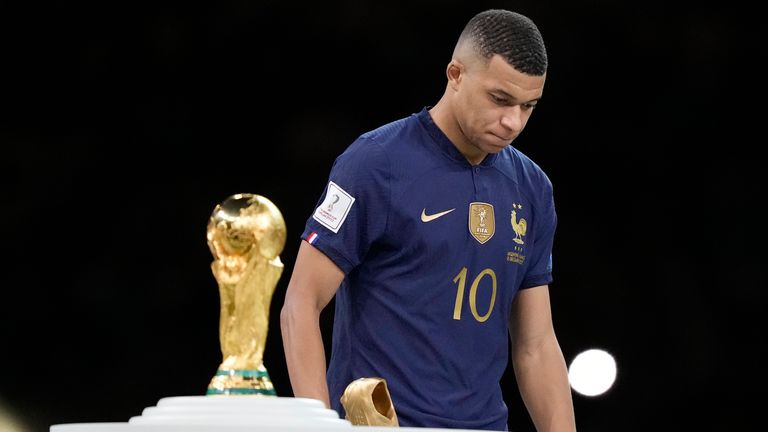 Messi could have won it for Argentina in the seventh of eight added minutes. He hit a swerving effort goalwards, but a leaping Lloris pushed the ball over the crossbar as the game headed into extra-time.
Argentina went the closest to taking the lead during the added period. At the end of the first half, Lautaro Martinez's strike was sensationally blocked by Dayot Upamecano before Montiel's effort from range was nodded over. Lautaro Martinez tried his luck again soon after, but he poked the ball wide.
World Cup final player ratings
Argentina: E. Martinez (8), Molina (6), Romero (8), Otamendi (6), Tagliafico (7), Di Maria (9), De Paul (8), Fernandez (6), Mac Allister (9), Messi (9), Alvarez (7).
Subs: Acuna (6), Montiel (6), Lautaro Martinez (4), Pezzella (6), Dybala (n/a).
France: Lloris (7), Kounde (6), Varane (6), Upamecano (6), Hernandez (5), Griezmann (5), Tchouameni (5), Rabiot (6), Dembele (3), Giroud (3), Mbappe (9).
Subs: Kolo Muani (7), Thuram (7), Camavinga (7), Coman (7), Fofana (6), Konate (n/a).
Man of the match: Kylian Mbappe.
Lautaro Martinez was involved again as Messi fired Argentina back in front in the second half of extra-time. The Inter Milan forward forced a sublime save from Lloris, but Messi was lurking for the rebound. He fired goalwards, with Jules Kounde clearing from deep inside the net. There were a few seconds of nerves as the referee consulted his goal-line technology watch before awarding the goal.
But in a game the epitomised the drama of football, France were awarded a second penalty with four minutes of extra-time to play. Mbappe let fly from the edge of the area, but a jumping Montiel blocked it with an outstretched arm. The France forward lined the spot kick up once again, dispatching past Emiliano Martinez, as the game went to a penalty shootout.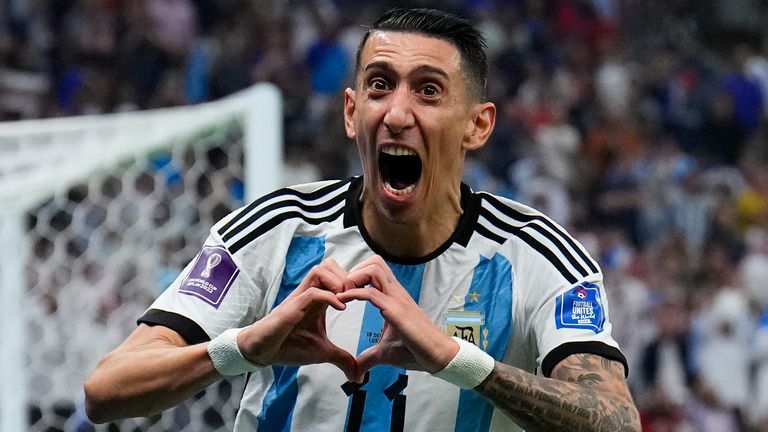 The two stars of the show – Mbappe and Messi – scored the first two penalties. But Martinez denied Coman before Tchouameni sent his effort wide. Paulo Dybala and Leandro Parades had scored theirs in between, before Kolo Muani also found the net for France.
Montiel stepped up to take Argentina's fourth and ultimately final penalty to see them win their first World Cup title in 36 years, immortalising Messi in football history.
Martinez: I was calm during penalties
Argentina goalkeeper Emiliano Martinez says he remained calm during the penalty shootout as he helped his country to World Cup victory.
"It was a game where we suffered," he said. "Two poor shots and they levelled. They give them another penalty, they scored. Thank God later I did my thing, what I dreamed of.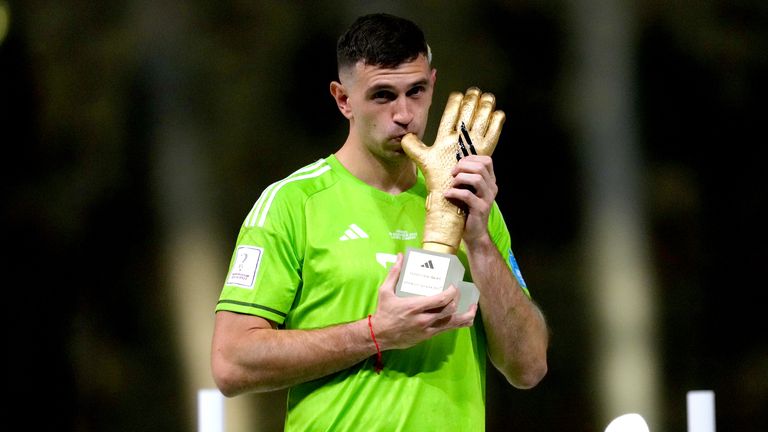 "There could not have been a World Cup that I have dreamed of like this. I was calm during the penalties."
For Scaloni, it was a nail-biting finish to a turbulent tournament and he could not hold back his tears following the final whistle.
"I cannot believe that we have suffered so much in a perfect game. Unbelievable, but this team responds to everything," Scaloni added.
"I am proud of the work they did. It is an exciting group. With the blows we received today, with the draws, this makes you emotional. I want to tell people to enjoy, it's a historic moment for our country.
"We who live for this and who have been through the good and the bad are used to these things… Above all it is an incredible enjoyment. Being at the top as we are now is something unique."
Deschamps: We came back from the dead | 'Future will be discussed next year'
Following his side's defeat to Argentina in the World Cup final, Didier Deschamps admits France 'have some regrets' over their first-half performance

France manager Didier Deschamps praised the stunning comeback from his side, even though they fell short at the final hurdle.
He said: "If you look at the match as a whole and see that in those first minutes, we were playing a very aggressive and dynamic opponent and we just weren't up to the same level for a number of reasons.
"But nevertheless, we managed to come back from the dead and we made a magnificent comeback. We have some regrets about the first part of the match.
"We have to congratulate Argentina because they showed great quality, great aggression, experience and some very cunning football out there. I don't want to take anything away from them because they put in a good performance.
Sky Sports chief reporter Kaveh Solhekol discusses the FIFA World Cup final

"I went through a lot of different emotions tonight and there are some regrets because we were so close to winning. There were a number of reasons for that and why we weren't quite as good as we should've been.
"We had a very strong opposition and we were perhaps lacking a little bit of energy. Some of our key players were lacking that energy but we had some younger players who came on and bought some freshness and quality.
"They managed to get us back into the match and keep the dream alive but at the end of the game, we couldn't achieve that dream.
"The whole of the squad has been facing a tricky situation for a while now and maybe that had a physical and psychological impact.
"I had no concerns about the players who started the match tonight. They were 100 per cent fit, but we only had four days since the last match so there is some tiredness perhaps, but not an excuse. We just didn't show the same energy that we showed in previous matches. That's why for the first hour or so, we weren't in the match."
When asked about his future as national team manager, he replied: "Even if we had won the match, I wouldn't have been able to answer that question tonight.
"I'm very sad for my players and staff, but I have a meeting with the president next year and then you'll find out."
Neville: One of the greatest things I've seen in my life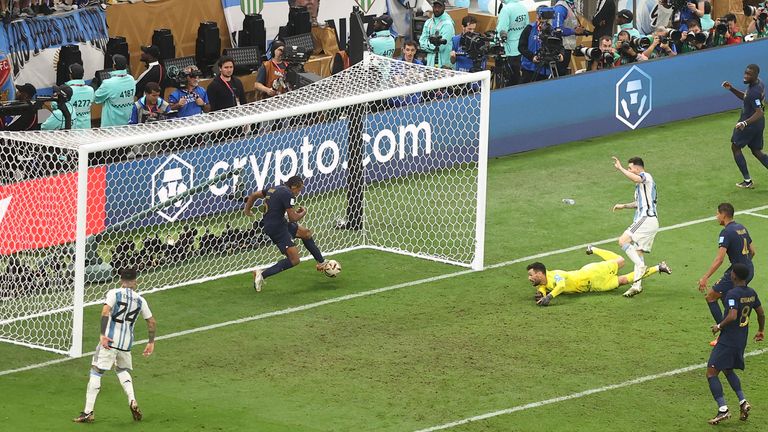 Sky Sports' Gary Neville on ITV:
"Messi should be the centre of attention and it feels right that he has won a World Cup. It feels like destiny was there for him and he's contributed enormous amounts during this tournament.
"During his whole career, he's lit up every game he's played in. If you've watched Lionel Messi play live you are truly blessed. The passion, emotion, fight and spirit of Argentina – their nastiness to the very end with Emi Martinez in goal – was absolutely amazing.
"You can just feel the emotion through the stadium. That was one of the greatest things I've ever seen in my life that game.
"When we were watching the clips of Maradona back in '86 before the game and I was young watching it in my childhood.
"The kids who were my age back then will be watching this tonight thinking they want to become a footballer and become engrossed and embedded in the culture of football.
"It's had a massive impact on me that game tonight, but it will have a massive impact on everyone."
Keane: Both teams were outstanding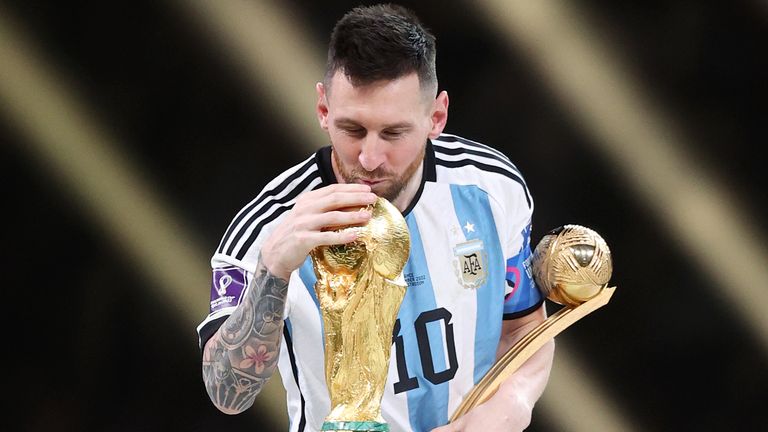 Sky Sports' Roy Keane on ITV:
"It was an amazing game, enthralling, nerve-wracking. There were real moments of quality, desire and spirit. This is why it's the greatest game on the planet.
"You can't begrudge them. This is years and years and years of hard work from being kids and wanting to win the World Cup with Argentina.
"They deserve all the credit in the world. They had to win the game three times, and they had to do the same against the Dutch.
"For all their quality, they've shown great spirit and fight.
"If you got a coaching job and you look at your squad and you have a player like Lionel Messi in your group, you've got a bit of a chance.
"He's got to manage him and manage the egos, he had to make changes from the first game. But when Messi is on the pitch and you are doing a bit of coaching, you've got a chance of winning some football matches.
"I look at it the other way. France couldn't get going and we should give Argentina credit for that.
"They've lost one game in the last 40-odd. So they were imposing their style and their physicality on them and they couldn't get going.
"They eventually got going, that's the sign of a really good team. They showed why they're champions today.
"I wouldn't be too critical of France, it took them a while to get going but in football you can only have one winner.
"France take your medicine, both teams were outstanding."
Player of the match – Kylian Mbappe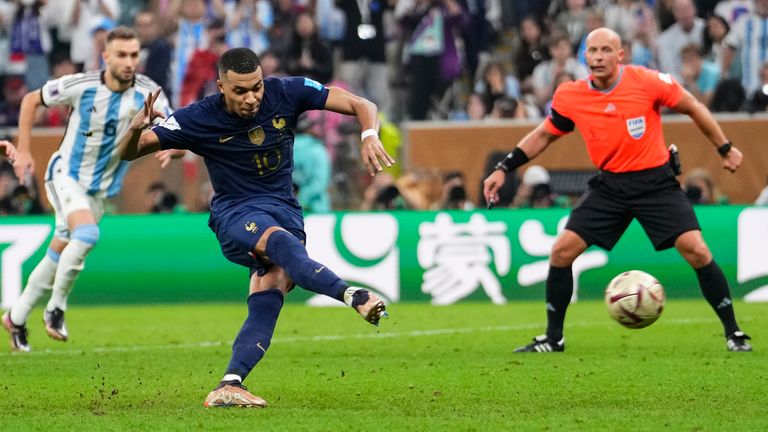 It's hard to believe that Mbappe is just 23. He has already featured at two World Cup finals and his hat-trick on Sunday was the first treble in a final in 56 years. Mbappe could not have done more to win it for his country, but does come away with the tournament's Golden Boot.
Opta stats – Magical Messi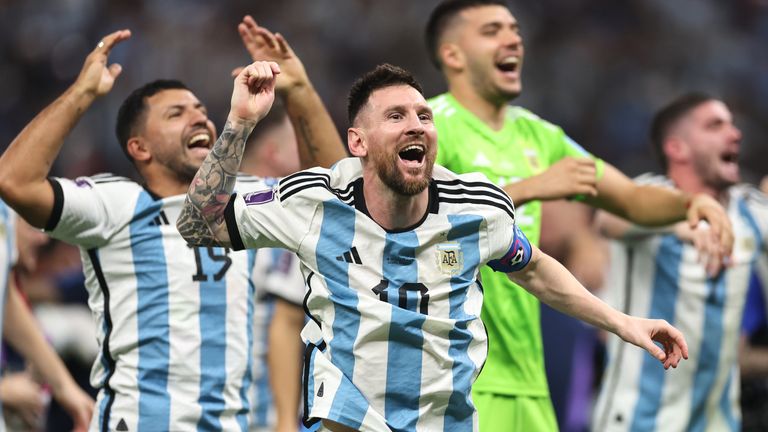 Argentina's Lionel Messi became the first player in World Cup history to score in the group stage, round of 16, quarter-final, semi-final and final in a single edition of the tournament.
Argentina's Lionel Messi made his 26th appearance in a World Cup match, becoming the all-time record holder for most games played at the tournament, overtaking Lothar Matthaus (25).
Lionel Messi has scored 26 goals in major international tournaments for Argentina (13 World Cup, 13 Copa América), the most of any South American player in history across the two competitions, overtaking Ronaldo (25).
In France's Kylian Mbappe and Argentina's Lionel Messi, this was the first ever World Cup final to see both teams have a player score at least twice. Mbappe himself was only the second ever hat-trick scorer in a World Cup final, after England's Geoff Hurst in 1966.
What's next?
Both the EFL and Scottish Premiership fixture calendars have already resumed, while the Carabao Cup returns to Sky Sports this week with Man Utd vs Burnley on Wednesday evening and Man City vs Liverpool on Thursday.
The Premier League schedule is set to restart on Boxing Day when Brentford host Tottenham, kick-off 12.30pm.