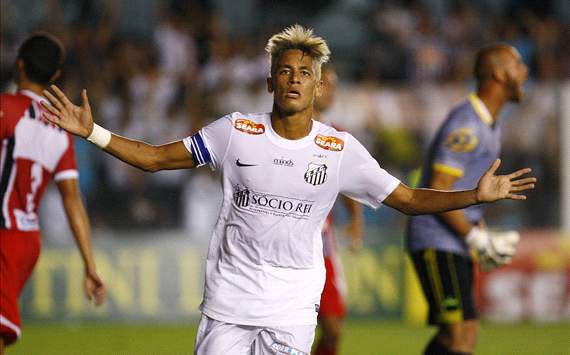 Ricardo Saibun | Santos FC
Neymar has insisted that he will not leave Santos for free once his contract expires in 2014.
The Brazil striker has long been linked with a move away from his current club, with Barcelona, Real Madrid and Bayern Munich all credited with an interest in the player.
The 20-year-old has always insisted that he will only move on when the time is right, and has now hinted at signing an extension to his current deal to ensure his side do not end up empty-handed.
"With everything the club have done for me and my family, leaving for free is not an option," he told reporters.
"But it's something very distant and we still have to talk. First I'll try to win some trophies and then I'll think about it. I don't know if I'll be leaving for free.
"It depends on the club and if they want to let me go for nothing."
Meanwhile, his agent, Wagner Ribeiro, has also insisted that Santos will be rewarded when their prize asset eventually makes the move to Europe.
"Neymar's family are very grateful to Santos, the club that built him as a player and projected him to world fame.
"Certainly at the end of his contract they will study the best way for him to continue in Brazil or go to Europe with Santos benefiting from it somehow."