Prior to Tuesday's big international against Spain, the striker has received a great deal of criticism, but should Deschamps start the Real Madrid man again the world champions?
DEBATE
Former France coach Raymond Domenech was back in the headlines over the weekend as he lambasted striker Karim Benzema for a "useless" performance against Georgia in Friday night's World Cup qualifying encounter in Paris.
The ex-trainer may have a reputation for veering wildly in the face of public opinion, but in this case he has not suffered widespread rebuke for his opinion. Benzema is not necessarily a popular figure in France and finds his place in les Bleus' starting XI to face Spain under threat.
With this in mind, Goal.com's Robin Bairner and Ben Hayward go head to head to debate whether the Real Madrid man should feature from the outset for Didier Deschamps' side on Tuesday night …
"Under scrutiny, Benzema unquestionably flopped"

By Robin Bairner
Karim Benzema may still be enjoying life, more or less, with one of the greatest clubs in the world in Real Madrid, but his international career has never been in such jeopardy.
When the powerful forward first broke onto the scene he was eulogised as France's great striking hope, yet he has never quite managed to live up to expectations, and presently he is in the midst of a frightening slump for les Bleus.
In total, he has scored just 15 goals in 56 outings for his country, which is a poor strike rate for a forward who has registered at approximately once every two games at club level.
But the statistics are even grimmer for the 25-year-old when they are examined more closely. For example, he has not scored a competitive goal against a meaningful footballing force.
Moreover, in his last 23 appearances for France, Benzema has struck only three times – a double against Estonia in an international friendly in June 2012 and the opener versus Albania in a European Championship qualifier in September 2011.
He has now gone 11 appearances and 46 shots without registering for his nation.
Even prior to the match against Georgia last Friday night the pressure was on the Real Madrid striker to perform. France Football, for example, ran an extensive feature on his struggles with the national team that detailed his comparatively lamentable record to the likes of Thierry Henry and David Trezeguet when they were of the same age.
But it was not just his skills under question, so too was his passion. Flagged for his failure to sing the national anthem, he replied bluntly that he could never be made to do so – a reply that engendered little sympathy from the notoriously thorny French public.
Under significant scrutiny, Benzema unquestionably flopped. His team-mates did his best to provide him a goal, but his finishing was wayward and lacked confidence, despite several presentable opportunities.
Is he indispensable to the team? Certainly not. His role is rather vague and his position ill-defined, as Benzema acts neither as a link with the other attacking players nor as a genuine spearhead. Lacking a genuine position is a problem that he has encountered at club level, but it is an issue that is all the more apparent on the international stage.
With Olivier Giroud in comparatively good form after netting twice in his last four internationals – including the late, late equaliser in Madrid when France previously met Spain – Benzema's place is deservedly under immense threat.
Follow Robin Bairner on

"Benzema can add the je ne sais quoi"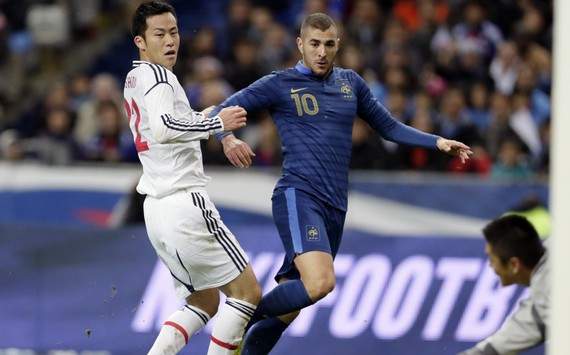 By Ben Hayward
There are few finer frontmen in the world today than Karim Benzema.
Take a look at the other names considered to be among the world's best centre-forwards and the list conjures up some interesting faces.
The likes of Radamel Falcao, Robin van Persie, Mario Gomez, David Villa, Zlatan Ibrahimovic, Sergio Aguero, Mario Balotelli, Gonzalo Higuain, Luis Suarez, Edinson Cavani and, although not strictly a striker, Lionel Messi spring to mind. But none of them are French.
Benzema is the first-choice central striker for Real Madrid, usually preferred to Argentina's Higuain (who, ironically, was born in France) in the big games for the Santiago Bernabeu side. And if he is good enough for one of the world's top clubs, he is surely good enough for les Bleus. After all, this is far from a golden generation of French forwards. Had he been up against Thierry Henry and David Trezeguet at their very best, Karim would have been looking at a long spell on the bench. But in today's team, he remains a better bet than Olivier Giroud.
The Arsenal striker scored a late leveller against Spain in France's 1-1 draw at the Vicente Calderon back in October and could potentially cause problems for the World Cup winners again on Tuesday with his height and physical presence. But Benzema can add the je ne sais quoi – the touch of magic and aura that les Bleus will need if they are to pull off a vital win in Paris. Spain are not afraid of Giroud, nor are they for that matter of Loic Remy, Jeremy Menez or Bafetimbi Gomis. But they do fear Benzema.
At Madrid and under Jose Mourinho, the former Lyon forward often reacts positively to negative press and criticism. Against Spain he has the ideal opportunity to prove his doubters wrong and make a real statement of intent – especially after former France boss Raymond Domenech described the striker as 'useless' this week on Twitter.
Domenech is perhaps not the one to be lecturing the players, given his abysmal leadership at Euro 2008 and the 2010 World Cup, yet his words are likely to motivate Benzema and, with so much at stake on Tuesday, the Paris public would do well to support their striker. When he turns it on, the 25-year-old can cause problems to any side in the world with his excellent technical ability and fine finishing. The touch of fantasy he can bring to France's forward line could make victory against Spain a reality, and it is in big games like this one when the top players step up. So despite all the recent criticism and his poor performances, France must back Benzema on Tuesday.
Follow Ben Hayward on