It's been an exciting day in the world of European football as they draws have been made for the knockout rounds of the Champions League and Europa League.
Manchester United will face Real Madrid in the tie of the round while Arsenal have a tough game against Bayern Munich and Celtic play Juventus.
In the Europa League, Chelsea have drawn Sparta Prague while Tottenham will face Lyon. Liverpool have been handed a tricky tie with Zenit St Petersburg and Newcastle will have to travel to the Ukraine to take on Metalist.
Players from across the continent have been reacting to those exciting fixtures and if that's not enough for you we've got Christmas pranks at Cardiff and Kevin-Prince Boateng discussing the end of the world in the Word on the Tweet…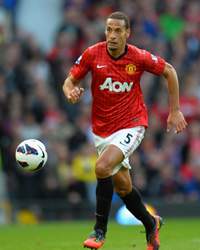 "Oh yes, Madrid!! What a great couple a games that'll be!! @Cristiano see u soon bro!!"
Rio Ferdinand can't contain his excitement as Manchester United are pitted against Real Madrid and former team-mate Cristiano Ronaldo.

"Boooooom…..absolute beauty of a tie…very tough but then they all potentially were..brings back great memories."
Celtic boss Neil Lennon steals a catchphrase straight from Goal towers as he expresses his delight over his side's tie with Juventus.
"United or Madrid.. Who do I want to win? Played my heart out for them both. Proud to have played for both. #impossible #MayTheBestTeamWin."
Ruud van Nistelrooy is in a pickle as he can't quite figure out who to support in the game between Manchester United and Real Madrid.
"We will play against Milan! It will be a great qualifying round! #ChampionsLeague."
Barcelona midfielder Cesc Fabregas states the obvious and tell us who his side are playing, but gets it slightly wrong in calling it the qualifying round. Thanks Cesc, what would we do without you!
"Delighted with the draw. Just can't wait now!"
Celtic midfielder Kris Commons is already counting down the days to their clash with Juventus.
"Manchester United in drawing Real Madrid showing, once again, how important it is to win your group…Oh wait a minute."
Gary Lineker gets facetious as, despite winning their group, Manchester United are handed one of the toughest ties of the round.
"Not an easy draw but a trip to Lyon should be good fun for our fans #RoadToAmsterdam"
Gareth Bale thinks Tottenham supporters might enjoy the trip to Lyon a bit more than the players.

"I don't mind the rain. I don't mind the cold. I don't mind the wind. But I hate 3 of them invited at the same time. Glaglagla."
Sunderland striker Louis Saha cannot get to grips with the weather in the North East. It doesn't get any better in summer either, Louis!
"Christmas dinner time at the stadium… And time for the young lads to sing!!!!!!"
Cardiff City defender Andrew Taylor is taking delight in making the club's younger players to humiliate themselves. Who said Christmas was about good will to all?
"Tough draw but very motivated to play against Bayern Munich!!Looking forward to a great Champions League night at the Emirates!!!"
Mikel Arteta reacts to the news that Arsenal will be playing the mighty Bundesliga champions and last year's defeated finalists.
"Good Morning…so tomorrow it's the end of the world???what u all think about that??"
AC Milan midfielder Kevin-Prince Boateng knows how to cheer everyone up before Christmas as he predicts the Mayans may be just be right about their doomsday prophecy on Friday.