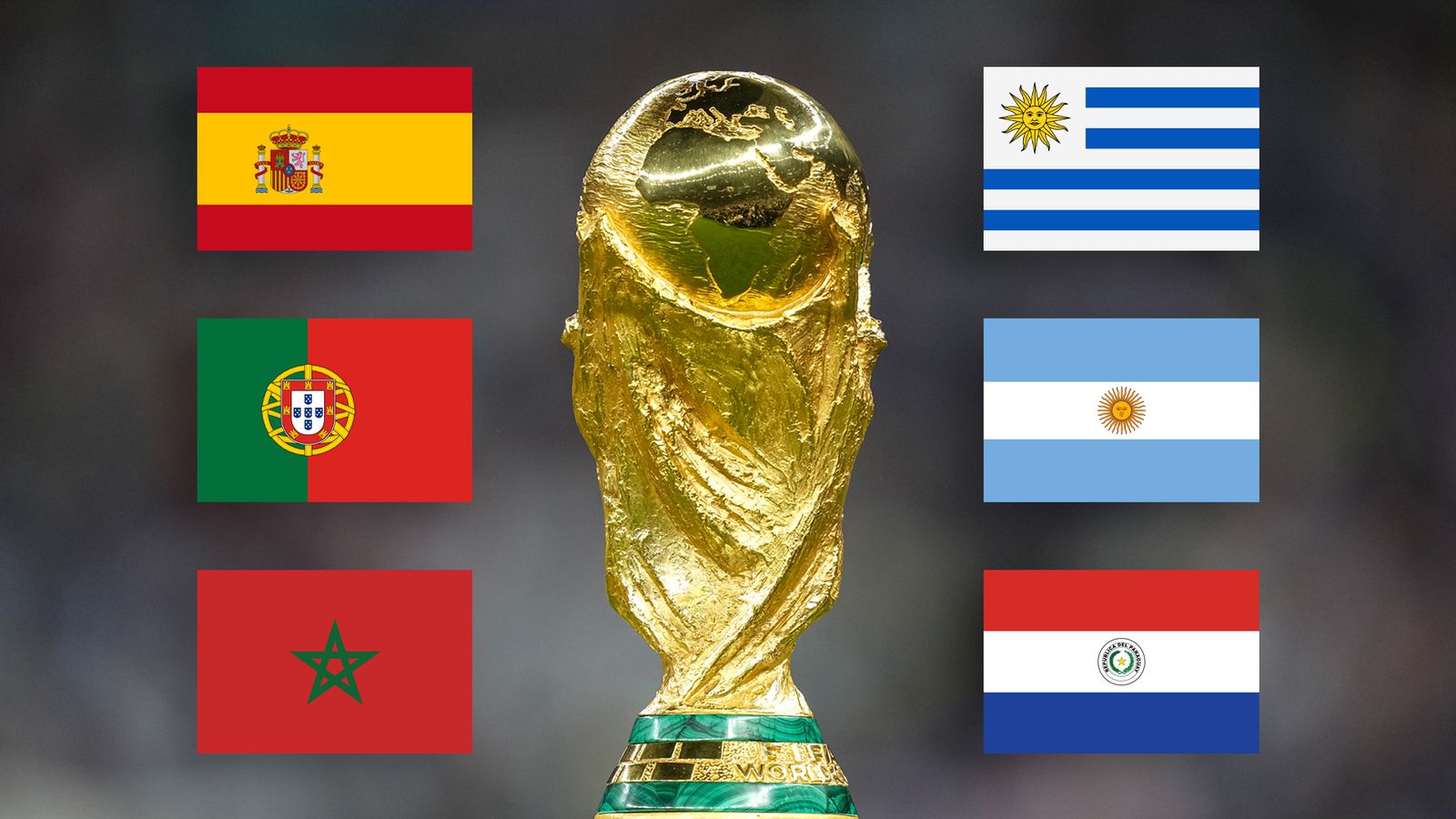 World Cup 2030 is set to be held in six countries across three continents, while Saudi Arabia could be set to host the 2034 edition of the tournament.
Spain, Portugal and Morocco are on course to co-host the 2030 edition of the men's tournament, with three South American nations – Uruguay, Argentina and Paraguay – staging the opening matches to mark the tournament's centenary.
Montevideo in Uruguay, the city which hosted the first World Cup finals match in 1930, is poised to stage the opening match in seven years' time with games in Argentina and Paraguay to follow.
The rest of the 48-team tournament will then move to north Africa and Europe, under a proposal from UEFA, the Confederation of African Football and South American confederation CONMEBOL which was accepted by the FIFA council at a meeting on Wednesday.
The hosting arrangement is now subject to formal approval by FIFA's congress.
Uruguay's selection for 2030 is in recognition of their role as hosts and winners of the opening tournament, Argentina's as runners-up in that tournament and Paraguay's as the traditional home of CONMEBOL.
Those countries will qualify automatically for the finals and play their opening games on home soil.
Where has the men's FIFA World Cup been held in the past?
2022 – Qatar (November to December)
2018 – Russia
2014 – Brazil
2010 – South Africa
2006 – Germany
2002 – Japan and South Korea
1998 – France
1994 – United States
1990 – Italy
1986 – Mexico
1982 – Spain
1978 – Argentina
1974 – West Germany
1970 – Mexico
1966 – England
1962 – Chile
1958 – Sweden
1954 – Switzerland
1950 – Brazil
1938 – France
1934 – Italy
1930 – Uruguay
FIFA president Gianni Infantino welcomed the news, saying: "In a divided world, FIFA and football are uniting.
"In 2030, we will have a unique global footprint, three continents – Africa, Europe and South America – six countries – Argentina, Morocco, Paraguay, Portugal, Spain and Uruguay – welcoming and uniting the world while celebrating together the beautiful game, the centenary and the FIFA World Cup."
President of CONMEBOL Alejandro Dominguez said: "We aimed high and dreamed big.
"The 2030 Centenario World Cup starts where it all began. The host of the opening matches of the Centenario World Cup will be Uruguay, Paraguay and Argentina."
However, the Football Supporters Europe group was deeply unimpressed by the arrangement.
It posted on X: "FIFA continues its cycle of destruction against the greatest tournament on earth.
"Horrendous for supporters, disregards the environment and rolls the red carpet out to a host for 2034 with an appalling human rights record. It's the end of the World Cup as we know it."
Analysis: What about the fans?
Sky Sports News chief reporter Kaveh Solhekol:
"I hope you're sitting comfortably, because the World Cup in 2030 is going to be in six countries and in three different continents. The main hosts of the tournament are going to be Spain, Portugal and Morocco. But the first three games are going to be in Uruguay, Argentina and Paraguay.
"The first three games will feature those nations. I know quite a lot of people will be asking why games are being held in South America as well. It is because 2030 will be the centenary of the first World Cup. The first World Cup was held in Uruguay in 1930. It was won by Uruguay and they along with Argentina, Paraguay and Chile wanted to host the World Cup in 2030.
"There's been some deals going on behind closed doors at FIFA, some very powerful men have been speaking to each other saying, 'you scratch my back, I'll scratch your back', why don't we have this big World Cup where everybody is going to be happy?
"There's going to be games in Europe, Africa and South America. But the flipside of this is, what about the fans? Fans will be complaining because how are they going to be able to afford to follow their teams. What if England are drawn to play the opening game against Uruguay?
"They would have to go to South America before coming back to Europe, and possibly even to Morocco. It's controversial, it's complicated, but FIFA think this is the best solution for the 2030 World Cup."
Saudi Arabia to bid for 2034 tournament
The awarding of the 2026 finals to the United States, Canada and Mexico followed by this proposed award to Spain, Portugal, Morocco, Uruguay, Argentina and Paraguay means that only bids from the Asian Football Confederation and the Oceania Football Confederation will be considered for the 2034 finals.
That appears to give Saudi Arabia, who were initially rumoured to be interested in bidding for 2030, a very strong chance of hosting, although Australia may enter the running too, after they successfully co-hosted the Women's World Cup alongside New Zealand earlier this year.
Later on Wednesday, it was confirmed Saudi Arabia would bid for the showpiece tournament in 2034.
Saudi Minister of Sport Prince Abdulaziz bin Turki Al Faisal said in a statement via the Saudi Press Agency: "Hosting a FIFA World Cup in 2034 would help us achieve our dream of becoming a leading nation in world sport and would mark a significant milestone in the country's transformation.
"As an emerging and welcoming home for all sports, we believe that hosting a FIFA World Cup is a natural next step in our football journey."
Saudi Arabia overwhelming favourites for 2034 World Cup
Sky Sports News chief reporter Kaveh Solhekol:
"Saudi Arabia wanted to host the World Cup in 2030 as well. They were considering a joint bid with Greece and Egypt. But I think now they're going to focus on the World Cup in 2034.
"What has been announced today I think helps Saudi Arabia's case. Normally, World Cups are generally rotated around continents. They take it in turns. What we're going to have in 2030 is a World Cup in Europe, South America and Africa.
"So those three Confederations will have used up their go. In 2034, FIFA will be inviting someone from Asia or Oceania to come forward and host the World Cup. You don't have to be a conspiracy theorist to work out that Saudi Arabia are going to try to host that World Cup.
"They are going to be the overwhelming favourites to get that tournament."
Portugal set to host first World Cup | Morocco in line to become second African nation to host finals games
The scandal surrounding the conduct of former Spanish football federation president Luis Rubiales at the final of the Women's World Cup has ultimately not prevented Spain being lined up to host its second finals, after it staged its first alone in 1982.
Rubiales remains the subject of ongoing FIFA disciplinary proceedings.
If the 2030 proposal is approved, Morocco would become only the second African nation to host World Cup finals matches, after South Africa in 2010.
Portugal have never hosted a World Cup before, but Euro 2004 was held in that country.
A South American bid had been set to go head-to-head with the Morocco-Spain-Portugal bid, and a decision had been expected at an extraordinary FIFA congress due to take place in the final quarter of next year.
However, the South American bid would have faced a difficult task to overcome a bid that had backing from UEFA and CAF, and now CONMEBOL has worked with the European and African confederations to come up with this proposal.
Brazil, in 2014, were the last South American nation to host the tournament.