ANALYSIS
By Charlie Scott
Happy Birthday Jose.
The much-loved/much-hated (delete as appropriate) Real Madrid coach celebrates reaching a half-century today, and to mark his special day Goal.com has compiled a list of 50 tasty facts and anecdotes about the man's colourful life and career.

A figure that produces brilliance, hilarity and downright fury in equal measure, the entries below will no doubt prompt smiles, shakes-of-the-head and disbelief all in the space of one article.
Enjoy!
1 – Where better place to start when discussing Mourinho's life than at the No.1. Upon arriving at Chelsea in 2004 from Porto the talented coach gave a press conference in which he said, "Please don't call me arrogant, but I'm European champion and I think I'm a special one," much to the joy of the waiting reporters. The self-proclaimed moniker has accompanied him ever since.
2 – Mourinho led Real Madrid to the Liga title for the first time in four seasons in 2011-12, and during the campaign they broke a number of domestic records. Their 100 points was the highest ever tally, as was the 121 goals they scored. Their positive goal difference of 89 was also a new high, along with their 16 away wins and 32 overall wins.
3 – The number of weeks Jose told the Italian press it took him to learn Italian after agreeing to take the Inter job in 2008.
4 – The 2011-12 Liga title represented a significant milestone for Mourinho, as it meant he had won the league title in Portugal, England, Italy and Spain, each of the four countries in which he had coached.
5 – In a letter he sent to each of the Chelsea squad soon after arriving at the club, he wrote an equation at the bottom with five words in it:
"Motivation + Ambition + Team + Spirit = SUCCESS"
6 – In 2009, Mourinho received a doctorate from Lisbon's Technical University for his accomplishments in professional football. He had graduated from the university more than 20 years beforehand with a degree in physical education and sport.

7 – The number of players Mourinho thought his Inter side needed to beat Milan in January 2010. Wesley Sneijder was sent off for Inter during the game, although they still went on to win the derby 2-0. Afterwards their coach said: "We were perfect. We would have won this game even with seven men. Maybe with six we would have struggled, but we would have won with seven."
8 – When told by a Spanish journalist that he has been named the ninth most influential person in world by AskMen, Mourinho replied: "What position is my wife in? Eighth, at least. That is crazy. I'm not even in charge of my own home …"
9 – The number of years he went unbeaten at home in league matches. Between losing 3-2 to Beira-Mar as Porto coach in February 2002 and Real Madrid's 1-0 loss to Sporting Gijon in April 2011, Mourinho had won 125 matches and drawn 25 in an unbelievable run of games that lasted nine years and one month.
10 – In the build-up to Real Madrid's Champions League semi-final clash against Barcelona he stoked the flames between the two sides by claiming his team would practice playing with 10 men as referees always sent his players off when he faced Barcelona.
"I have to train with 10 men [to prepare for the Barcelona semi-final], how to play with 10 men, because I go there with Chelsea, I finish with 10, I go there with Inter, I finish with 10 and I have to train to play with 10 men because it can happen again."
In the 2-0 first-leg loss at the Santiago Bernabeu, Madrid had Pepe sent off.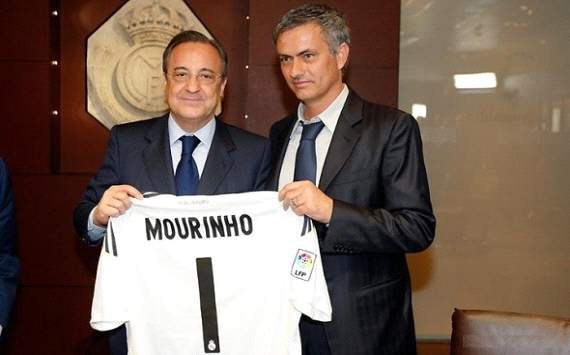 The Bright Side of Life | Mourinho is welcomed to Madrid by Florentino Perez
11 – Mourinho won the inaugural Ballon d'Or Best Coach award in 2010.
12 – He is reportedly paid €12.3m annually by current club Real Madrid. His contract is set to expire in 2016, despite rumours linking him with a move back to England.
13 – According to his mother, Maria Julia, Jose did not suddenly become a perfectionist when he started coaching, having shown signs when he was very young of his desire for things to be neat and organised.
"He was a perfectionist from his early days," she says. "At the age of five he would go to school with all his pens, crayons and ruler perfectly ordered and cased in his satchel."
14 – The percentage of possession that Mourinho's Inter side had in the second leg of their Champions League semi-final against Barcelona at Camp Nou in 2010. Inter lost that match 1-0, but progressed to the final 3-2 winners on aggregate.
15 – Jose's mother, Maria Julia, wanted him to become a businessman when it became clear he wasn't going to succeed as a professional footballer, and when he was 23 she signed him up for a business school. He quit after a day.
16 – In 2007, Mourinho was issued a police caution after allegedly refusing to allow police to quarantine his pet dog, Leya. Having rushed home from an awards ceremony following a tip-off from his wife, according to eyewitnesses the then-Chelsea coach freed the animal from the hands of the health officials and encouraged it to run off down the street.
17 – Before he became a coach, Mourinho was a PE teacher in Portugal. According to one of his former pupils he was an immediate hit with female students. "Until he arrived no girls ever wanted to do PE, but suddenly nobody was asking for a doctor's sick note," she recalled.
18 – According to Rui Faria, Mourinho's fitness coach at Porto, Chelsea, Inter and now Real Madrid, the 50-year-old learned a valuable coaching tip when attending a course led by Andy Roxburgh at the Scottish Football Association while he was still coach of the youth team at Vitoria Setubal. Roxburgh emphasised to Mourinho the importance of having your players face away from the sun when talking to them so they would not be blinded by the light.
19 – In 2005 he was selected as the New Statesman's Man of the Year.
20 – Mourinho was fined and given a three-match ban by the Italian Football Association in February 2010 after making a handcuffs gesture towards a camera following the dismissals of two of his Inter players in the first half of a Serie A match against Sampdoria.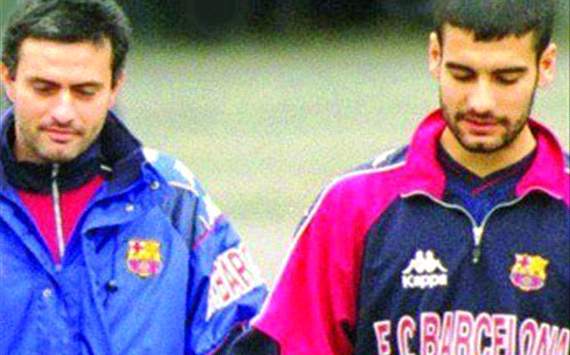 Those were the days | Mourinho with Pep Guardiola in his time as assistant at Camp Nou

21 – The day after winning the Champions League with Inter, Mourinho said he was "sad, as almost for sure it's my last game with Inter." He went on to add: "If you don't coach Real Madrid then you will always have a gap in your career." A week later Real Madrid announced Mourinho as their new coach.
22 – In 2005 he donated a jacket to be auctioned to help raise money for Tsunami Relief and other charities. Organiser Marc Thompson revealed that one bidder paid €25,800 for Mourinho's coat at the fundraiser, which was held at Stamford Bridge.
23 – His favourite actor is Anthony Hopkins, the star of the Hannibal Lecter trilogy.
24 – The age Mourinho ended his playing career, after making 94 appearances during spells at Rio Ave, Belenenses, Sesimbra and Comercio e Industria.
25 – Upon being unveiled at Real Madrid, Mourinho addressed his on-going feud with the club's Liga rivals Barcelona. "If I am hated at Barcelona, it is their problem but not mine. Fear is not a word in my football dictionary," he said. In 24 matches against Barcelona for Chelsea, Inter and Madrid the Portuguese trainer does not have a brilliant record, having won six, drawn eight and lost 10.

26 – Despite his current distaste for the Catalan side, it was not always that way. Mourinho acted as assistant to Bobby Robson and then Louis van Gaal during a three-year spell at the club between 1996-99, and also applied to be coach in 2008 after leaving Chelsea.
27 – The length in pages of the PowerPoint document that Mourinho presented during his unsuccessful interview for the Barcelona job in Lisbon in 2008.


28 – After taking the Porto job in January 2002, Mourinho steered the club to a third place finish in the Primeira Liga, then promised the club's hierarchy that he would "make Porto champions next year." Sure enough, they won the 2002-03 league with a record points tally of 86.
29 – The age he became Sir Bobby Robson's translator at Benfica in 1992. He would go on to work with the former England manager at Porto and then Barcelona.
30 – Mourinho does not have a good relationship with the current Sporting Lisbon coach Jesualdo Ferreira, after the two clashed a number of times during his time in Portugal. One of the birthday boy's most memorable early quotes likened Ferreira to a donkey.
"One is a coach with a 30-year career, the other with a three-year one. The one with 30 years has never won anything; the one with three years has won a lot. The one with a 30-year career will be forgotten when he ends it; the one with three could end it right now and he could never be erased from history. This could be the story of a donkey who worked for 30 years but never became a horse."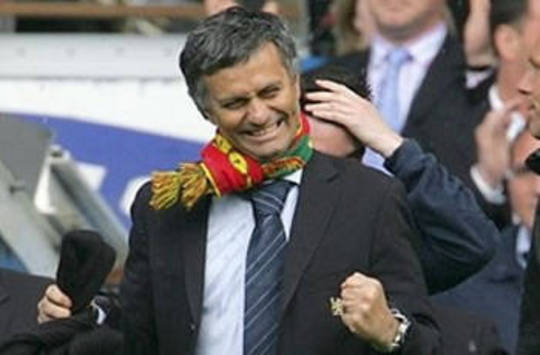 Sweet success | Mourinho celebrates his first Premier League title with Chelsea in 2004-05
31 – When asked about how he would work alongside the Chelsea chairman Roman Abramovich when he joined the London-based club in 2004, he famously replied: "I don't have to control Mr Abramovich. He has to control me."
32 – Jose met his wife Tami when he was a teenager, before they married in 1989 when he was 26. They have two children, a daughter called Matilde and a son called Jose Mario Jr.

33 – After being banned by Uefa for Chelsea's two-legged Champions League quarter-final against Bayern Munich in the 2004-05 season, it was claimed that Mourinho arrived at Stamford Bridge early and hid in the dressing room in order to give the pre-match and half-time team-talk, before then being wheeled out of the ground in a laundry basket in order to avoid being seen.
34 –
Upon winning his second Premier League title with Chelsea in 2006, Mourinho threw his winners medal into the crowd at Stamford Bridge. He was given a replacement medal minutes later, but it too suffered a similar fate. One of the lucky fans to catch a medal later sold it at auction for €19,720.
35 – In 2009-10 during his second season at Inter, Mourinho let the San Siro side to the first Italian treble of Serie A, the Coppa Italia and the Champions League. It was also the first time Inter had won the European Cup since 1965.

36 – By winning that Champions League with Inter he also became only the third coach in history to win the tournament with two different teams, with Ernst Happel and Ottmar Hitzfield the two others to achieve that feat.
37 – Jose was born in 1963. Notable other moments associated with football that occurred in that year include the formation of the Bundesliga in West Germany, and Santos' 5-3 aggregate Copa Libertadores win over Boca Juniors. The Brazilian club were inspired by a certain 23-year-old forward going by the name of Pele.
38 – His father, Jose Manuel Mourinho Felix, was a professional footballer and was capped once by Portugal in 1972.
39 – Mourinho speaks Portuguese, Spanish, Italian, French, English and Catalan.
40 – In recent years many figures in world football have labelled Mourinho as the best coach in the world, including Wesley Sneijder, Karim Benzema, Deco, Iker Casillas and Cristiano Ronaldo. Legendary AC Milan boss Arrigo Sacchi also described him as "a phenomenon."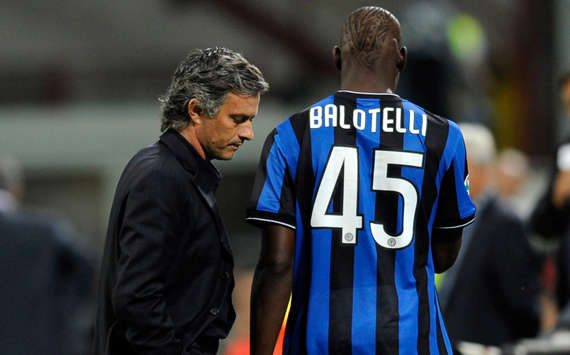 Not-so-super Mario | During his time at Inter, Mourinho clashed with Balotelli
41 – "I could write a book of 200 pages of my two years at Inter with Mario Balotelli," said Mourinho in 2012. Player and coach enjoyed a turbulent relationship at San Siro, with the Italian striker once being warned at half-time of a game against Rubin Kazan not to pick up a second yellow card by his coach, only to then be sent off in the 46th minute.
42 – In 2010 Mourinho was fined €40,000 by Uefa after appearing to issue instructions via Jerzy Dudek and Iker Casillas to Sergio Ramos and Xabi Alonso that resulted in the latter two players being sent off in Real Madrid's 4-0 Champions League win over Ajax. Having been sent off the two were then suspended for the last Champions League group match against Auxerre with qualification to the knockout stages already secured, and then had a clean slate for the last-16.
43 – The 50-year-old tasted defeat outside football in 2004, when an unofficial biography about him called O Vencedor – De Setubal a Stamford Bridge became a bestseller in Portugal despite his attempts to stop it being published.
44 – At the end of 2011 Mourinho was named Rockstar of the Year by the Spanish edition of Rolling Stone magazine and featured on the front cover of their December edition.
45 – In August 2011 Mourinho managed to escape punishment following an ugly melee at the end of the Supercopa second leg against Barcelona, despite being seen poking the eye of the then Barca assistant coach Tito Vilanova. In the aftermath of the incident he went on to call Tito "Pito", a Spanish slang term for penis.

46 – Controversial Paris Saint-Germain striker Zlatan Ibrahimovic, who played under Mourinho at Inter, described the Portuguese coach positively in his autobiography I Am Zlatan.

"Jose Mourinho is a big star…He's cool. The first time he met [my wife] he whispered to her: 'Helena, you have only one mission. Feed Zlatan, let him sleep, keep him happy!' The guy says what he wants. I like him."

47 – When Jose departed Inter to join Real Madrid he was caught on camera wishing one of his most loyal players, Marco Materazzi, a tearful farewell before jumping in the back of a car and leaving Milan.

48 – In 2004, Mourinho revealed that four years earlier he had turned down an offer from Sir Bobby to be his assistant at Newcastle, even though the Englishman also suggested he would step down after two years to allow his friend to take over at St James' Park.
"Since Bobby suspected I wouldn't accept it, he told me it would only be for a year, two tops, and that at the end of that time I would be head coach and he club manager. I didn't take him up on his offer, knowing sooner or later, my time would come."
49 –
Mourinho's Spanish Supercopa victory in 2012 made him the first man to win the national Super Cup in four different countries.
50 –
The number of years that had passed since Chelsea had won their last league title when Mourinho led them to the 2004-05 Premier League.

Follow Charlie Scott on