Have you ever seen that scene at school where a big kid steals the smaller kid's lunch money and then holds him at arm's length? For 55 minutes, we saw the football equivalent as Chelsea were coasting at 1-0 up against Manchester United.
A woefully wayward header from Romelu Lukaku was the only shot Chelsea dealt with as they controlled the ball from minute one until Anthony Martial equalised against the run of play.
Chelsea should have won the game, but they squandered chances and the opportunity to really pile the misery on their under-fire former manager Jose Mourinho.
Antonio Rudiger's first-half goal had been an emblem of the domination as Paul Pogba left the Germany international unchallenged to head home from an easy chance as his side were cruising. However, Martial scored a second on the break to put United ahead as a clash of styles played out at Stamford Bridge.
The game turned on quality finishing and final balls, showing that, although football is increasingly seeing sides look to possession to win major honours, you still need that killer instinct. 
Alvaro Morata, Eden Hazard and Willian all failed to produce the moments in the final third. Morata, in particular, showed why Maurizio Sarri was interested in setting up a reunion with Gonzalo Higuain over the summer despite him sadly falling out of Chelsea's transfer policy due to being over 30.
Ross Barkley eventually salvaged a point, but the Blues lost control of the game and Sarri wasn't impressed with how his players took it upon themselves to start playing long balls.
"For 60 minutes we played our football. Then after 1-1, we didn't play our football, only the long ball. We are not organised for the second ball," Sarri said as he took what is an uncharacteristic step in criticising his players. "In this type of football, United is better than us.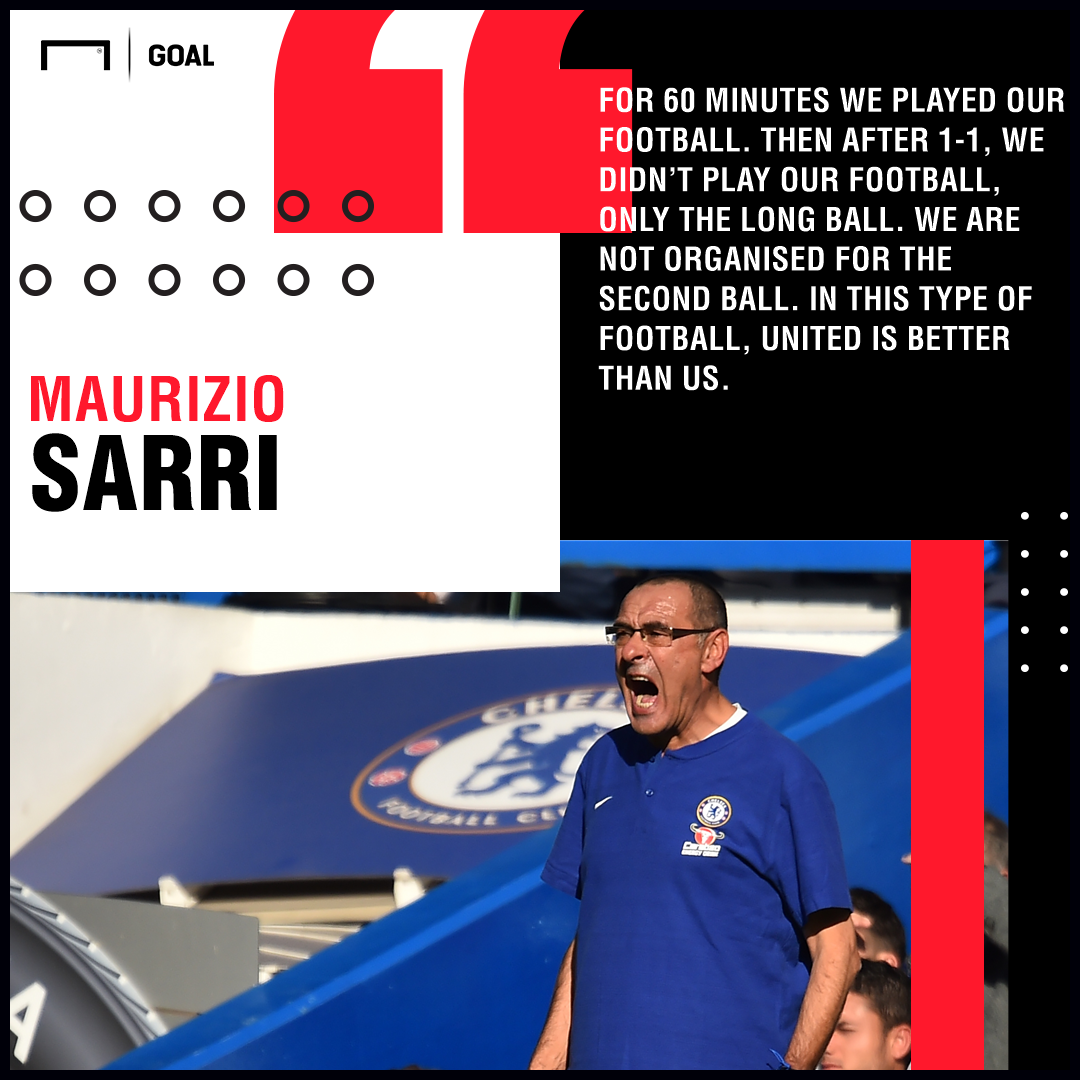 "I am really disappointed in this type of performance. The 2-2 in last minutes is ok, ok for the confidence of my players, but I have to look at something else. I have seen the match on the bench, and now want to study the second half of the match.
"We have stopped our football, and played another football, with the long ball. We are not organised like this. I don't want the long ball, I don't want the second ball. I want to play with short passes."
Sarri is having some understandable teething problems as he transforms his team's style of play. They looked to the long ball and Sarri has repeatedly urged his side to improve themselves defensively. 
The finishing and final ball deficiency is harder to improve, with Morata's poor movement being a worry as he got the nod ahead of a goal shy Olivier Giroud.
If you stop the eight-goal Hazard, who can Chelsea look to? The answer on Saturday afternoon was that it is hard to find an answer in the team, especially in games at the highest level.
Pedro and Willian are capable of goals, but you can't say with confidence that they can hit a tally to make the Blues title contenders in the face of great competition from the north of England.
Chelsea still look technically superior to Manchester United and won the midfield battle, while also showing that they had superior defenders.
Liverpool and Manchester City have tons of threats all over their pitch and the same criticism of Sarri's Napoli about a lack of killer instinct will likely undo them in the Premier League this season.
A top-four finish would satisfy many, but this is the hardest thing to overcome and the transfer chiefs may begin to think that they need to look for the next Higuain to replace Morata, with the clock ticking on his future. 
Let'